The old adage "there's no such thing as bad publicity"—whether intentional, like a semi-talented pop star promoting her own poor behavior on Instagram, or unintentional (just look at Enron)—may not necessarily be true. But even if it were, Brooklyn College will always choose the high road.
A crucial component of the work at the Office of Communications and Marketing is to promote good news about the college—our faculty, programs, students, administration, and staff.
One recent story that exemplifies our efforts is the NY 1 report about our Barry R. Feirstein Graduate School of Cinema, the only film school in the United States to operate on a cinema studio lot. Reporter Michael Scotto's piece highlights the opportunities our school offers people who wouldn't ordinarily have the resources to break into the movie industry. Our job in this office was to actively engage the reporter and coordinate his team's visit to the studio lot, prepare potential interviewees, and make sure things run smoothly. The result was a media piece that garnered lots of attention.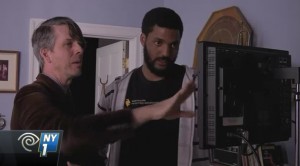 It's positive coverage like this that helps spread the good news about Brooklyn College, which, in turn, helps us attract exceptional students, renowned faculty members, and highly skilled staff. And we make sure our story is told across all media, including print, so that we can reach a breadth of audiences. Recently, for example, The New York Times wanted to report about how we're at the forefront of a trend among colleges to establish food pantries for students. This June article by Pulitzer Prize–winning journalist Stephanie Saul highlights two of our students—junior Rebecca Harmata and senior Keith Short—who utilize the college's food pantry for assistance.
Professors also contribute to our effort by either offering their opinions as experts, as Sociology Professor Kenneth Gould, the director of the Urban Sustainability Program, did here, or by penning their own opinion pieces, like what School of Education Professor David Bloomfield wrote for the New York Post. Even letters to the editor, like those submitted by Associate Professor Jacqueline Shannon, chair of the Early Childhood Education/Art Education Department, to The New York Times and The Washington Post can do wonders to promote the college.
Members of the media often pick up stories our staff writes for the Brooklyn College alumni magazine or the college's website, such as this article about Safety Officer Hubert Evans, who, at age 87, graduated from Medgar Evers College. The story got significant play on other websites.
While it's difficult to gauge the direct impact of any one article in recruiting students or faculty, there is no question that the stories we promote—highlighting our programs, the types of assistance our students receive, the quality of our faculty, and the research work done here—help us strengthen our narrative about Brooklyn College's excellence. And that's the kind of good publicity we work toward every day.