Nari Ward's sculptures, installations, and performance pieces seem uncomplicated—colorful, even playful at first. But each step you take toward them begins to reveal complicated layers. Often constructed from found objects—shopping carts, batteries, shoelaces, and baseball bats, to name a few—his art reflects a society defined by throw-away consumption, racial politics, and history as well as an exploration of the Caribbean diaspora and the immigration experience. Sun Splashed, an outstanding retrospective of his work from the 1990s to the present, is currently at the Barnes Foundation in Philadelphia. The exhibit runs through August 22.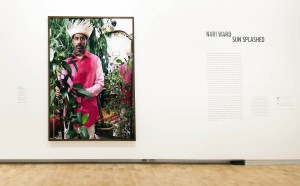 Inspired by his youth growing up in Saint Andrew, Jamaica, and his studio's location in Harlem, Ward's art has been celebrated since his first exhibition, Amazing Grace, in 1993, the year after he received his M.F.A. at Brooklyn College. Composed of more than 300 baby carriages that were discarded by parents and then used by the homeless, the piece powerfully announced his talent for scrutinizing explosive issues while imbuing them with transformative beauty.
Ward is the recipient of the Rome Prize from the American Academy of Rome, the Willard L. Metcalf Award from the American Academy of Arts and Letters, the Bessie Award in Visual Arts from the Dance Theater Workshop, and the Guggenheim Fellowship from the John Simon Guggenheim Memorial Foundation.